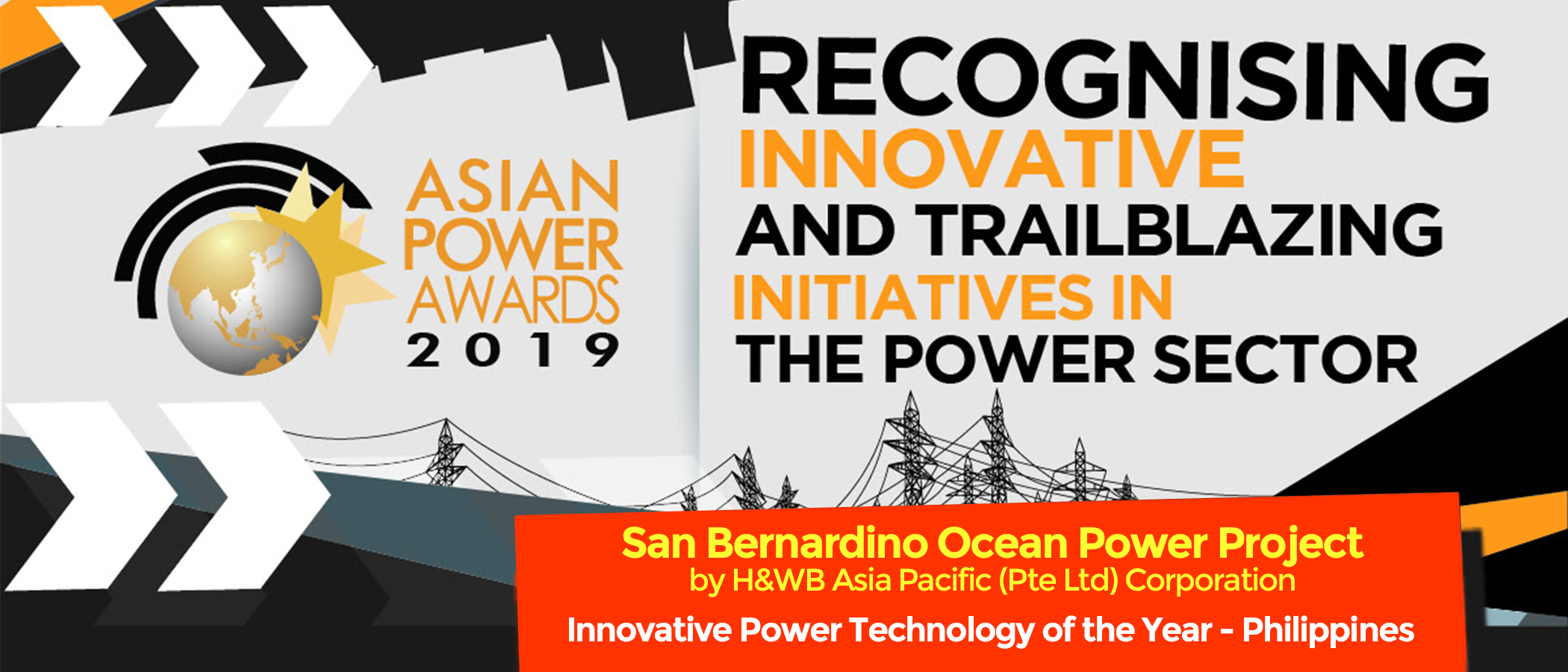 Asian Power Awards 2019
September 6, 2019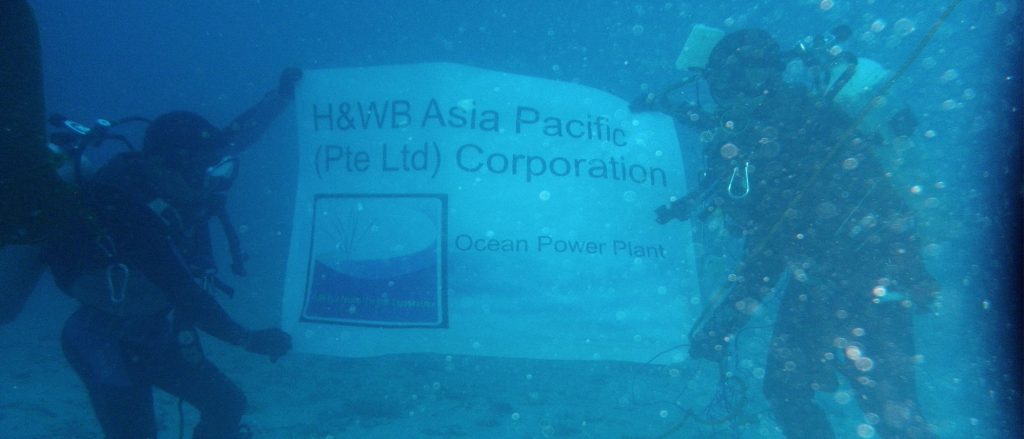 San Bernardino Ocean Power Project
The San Bernardino Ocean Power Project (SBOPP) is seen as the first-ever commercial ocean power plant in the Philippines and ASEAN with an in-situ capacity of 3MW deploying Tidal In-Stream Energy Conversion (TISEC) technology. San Bernardino Ocean Power Corp. (SBOPC) is owned by H&WB Asia Pacific (Pte Ltd) Corp., an IPP that pioneers energy projects in frontier areas. SABELLA SAS of France offers an equity position in SBOPC. Harnessing the immense resource potential of 500MW in San Bernardino Strait, the plant assures reliable power to the islands of Capul and San Antonio, Northern Samar. The energy mix in these off-grid areas replaces the obsolete, costly, and polluting diesel power plants that can intermittently run eight hours. The environmental footprint significantly lessens in the islands.
SABELLA's field-proven D15-1000 tidal turbine and onshore batteries for storage are the vital components of the project. TISEC technology generates energy from tidal currents; which are unlimited, reliable, and predictable energy sources in San Bernardino Strait. SABELLA has established its two cutting-edge projects, the launch of its proprietary D03-50 turbine in 2008 and its D10-1000, a full scale 10-meter rotor diameter and 1MW prototype immersed in Fromveur Passage that links to Brittany's Ushant Island, France's model of "Fossil-Free Island;" a breakthrough.
The project is an opportunity for Capul and San Antonio to switch to sustainable power that is 100% based on a durable power source for off-grid insular or remote unserved communities. It is perfectly consistent with the Department of Energy's plan on energy supply security, and to maximize market penetration of Renewables.
SBOPP reaches a Declaration of Commerciality under the terms of its Service Contract to show proof of concept and proof of benefit that cuts the vicious cycles of poverty in undeveloped islands yet in the poorest region in the Visayas.
There are no major socio-economic risks; rather, business spinoffs multiple, and create robust agriculture and fishery economies. In fact, given the turbines embedded in deep waters between 60 to more than 150 meters, nonetheless, there will be no visual distraction, no pollution, no negative impact on marine traffic (trade, passenger and cargo transportation, fishing boats, marina, etc.); and, no ill consequences on fishing activities. During its development and construction, SBOPC shall pay major attention to social acceptability and plan several town hall meetings to present to all stakeholders, leaving no stone unturned, if any. Hitherto, feedback is very positive, as the ocean power plant will essentially bring more welfare to the islanders and support economic growth of the region derived from a wider access to modern energy services.
Out of global applicants, SBOPP has qualified for the IRENA-ADFD Project Funding (5th Cycle), proving the feasibility of the project.  San Bernardino Ocean Power Project "rides the tide" of ocean energy projects in the country, and alleviates poverty in the hinterlands of the Philippines.
---
The awards dinner was held last September 4, 2019 at Shangri-La Hotel, Kuala Lumpur, Malaysia.
---